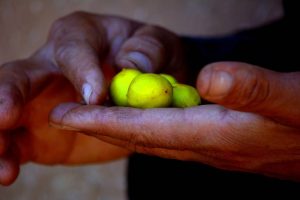 Argan oil is a plant oil produced from the kernels of the argan tree (Argania spinosa L.) that is only found in Morocco
. In Morocco, argan oil is used to dip bread in at breakfast or to drizzle on couscous or pasta. It is also used for cosmetic purposes.
Argan oil protects and renews the skin, as well as reduces signs of ageing. Thanks to the rich content of Vitamin E, the mask makes skin soft and young. Argan oil absorbs quickly and does not clog pores. It's the best for dry skin as well as other skin types. This mask also contains coconut oil, hyaluronic acid, green tea and aloe vera extract.