Mitomo on the WEB:
Mitomo provide high-quality beauty and healthcare products, with ingredients sourced from Japan.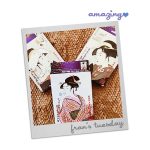 "We tried their innovative Eye Masks (see here) in January, so were keen to see whether our face masks would live up to the hype. The verdict? We were highly impressed, and although we don't like to speak for others, we know we're not the only one in the office to have snaffled a few extras to take home! We tried three of their face masks: Hyaluronic + Lithospermum, Q10 + Lithospermum and Collagen + Lithospermum – all part of their Essence Mask collection. …"  Read More
What Our Customers are Saying
Excellent results with no mess.
(Collagen and Lithospermum / Pack of 10 sheets)
Both I and my grand daughter loved this product. It's easy to use with no mess or fuss and it really made a difference that showed to our complexions.
These masks really work. Bought them many times. Highly recommend. 
Arrived on time and as described. Would buy from again.